After spending a couple of revelatory days in Jakarta, where Kartika had introduced me to the most intriguing set of characters, a palette of opinion leaders with different perspectives and expertise: Indonesian activists and influential thinkers, diplomats, strategists, as well as local business people, many of them proper 'Power Ibus', it was now time to venture out for new KSF initiatives. Off to Surabaya, second largest city in Indonesia and the capital of East Java.
Kartika's friend Karim Raslan had organised an impressive itinerary: Among other Surabayan personalities, he had arranged encounters with the two most outstanding Power Ibus: Ibu Risma, famed Mayoress of Surabaya and Ibu Nani of the Jawa Pos. We almost perished en route: Heart arrest – caused by nearly missing our flight due to the endemic traffic situation in Jakarta. Just to make sure our hearts would not rest, our cheeky driver, who had picked us up at the state-of-the-art Surabaya airport, decided it was more efficient to drive against the one-way, two lane carriageway. Along with the sun set we arrived at the HQ of Graha Pena and the Jawa Pos. We were greeted by a hoard of photographers and the striking, dynamic Über-Ibu Nani, visionary and activist, who helms the PT Jawa Pos Holding. Ibu Nani whisked us through her various news rooms, all equipped with a gym and fridges for breast milk.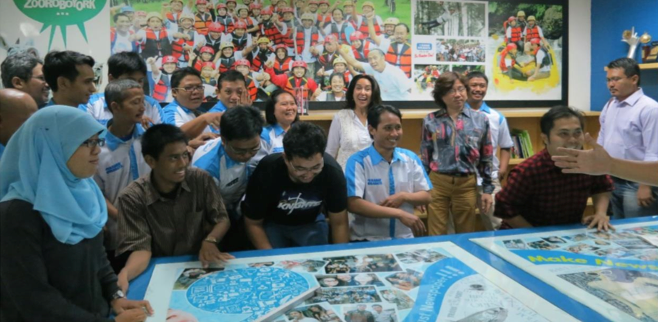 An impressive crowd of young reporters and journalists, as well as the Chief of News Coverage, Pak Arif Santoso, guided us through the 200-local-newspapers producing publishing powerhouse. I was struck by the reporters' involvement with each paper's respective local community. Striving to make a change and improve the lives of their readers, Jawa Pos launches pragmatic programmes from child rearing courses to accounting. There is something for everybody, especially for the hard-to-please youth.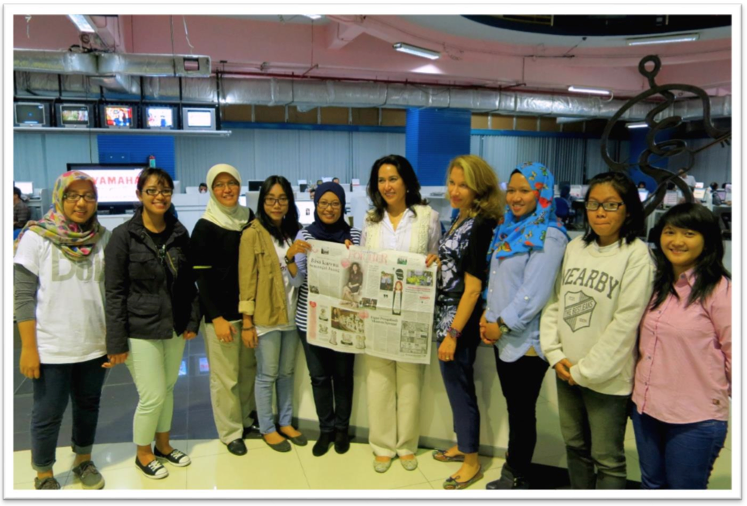 The Jawa Pos has also developed an internationally awarded women's section 'For Her', spreading beauty and cuisine secrets, as well as advice on career and education issues. Here we are with the dynamo team of 'Her' journalistas.
Besides Kartika and me, the KSF team was represented by Juliarty Soejarman Masson, KSF's fairy-like Operations Manager, as well as chivalrous Pak Budy Sutanto, a Co-Trustee and old chum of Kartika's.
Ibu Nani had invited us to join her and the JP correspondents for a sumptuous buffet of Javanese specialities, which was followed by an informal press conference in the board room. A frank and open 'Q and A' session followed Kartika's introductory presentation of KSF. There was amiable laughter, candidness and an instantaneous connection over a range of social issues:
Empowerment of women, accessible health, the urgency of environmental awareness and governmental transparency.
It also emerged that the Jawa Pos is hosting a Posyandu Festival, and spontaneously invited Kartika and KSF to participate. What an ideal platform for KSF. In fact, it was jokingly agreed, Kartika could become the official Ambassadress of Pasyandus.
The concept of the Posyandu is actually an intrinsically Indonesian, genial tradition.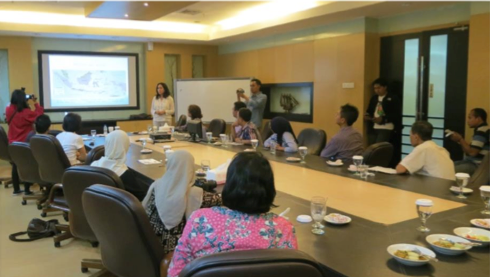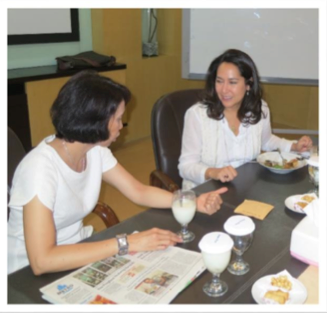 I had visited my first KSF Posyandu two years ago in Gianyar, Bali, to check out how they operate. My family and I were welcomed in a truly stately manner. To see a Posyandu in action was an eye-opener: Zesty KSF trained lady volunteers, dressed in their smart uniforms, rolled up their sleeves and helped young families and their children. Assisting with all matters on health and nutrition, the KSF Posyandus are also providing early learning tools, expertise and facilities. What an asset to have these angel volunteers pop up and serve the village community.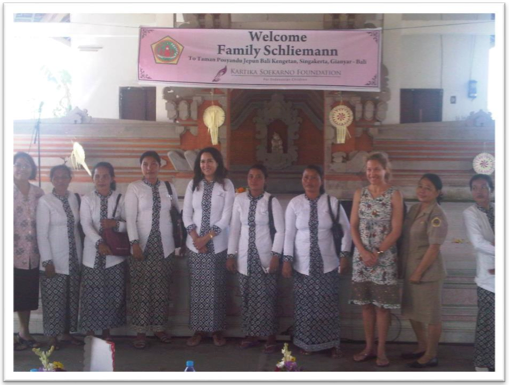 Author: Joana Schliemann