The right to quality education
Every child has the right to a good education and with that, the key to break the cycle of poverty. Quality education builds strong and healthy minds, nurtures individual talents and promotes social responsibility. It equips children with the skills to protect themselves from disease and exploitation, lead productive and successful lives and contribute to a country's economic growth and social stability.
A new paradigm of teaching and learning
KSF enhances the quality of education within existing schools to provide children with the creative, fun and stimulating experience that school should be. Using the world-renowned School Based Management (SBM) model, authority and responsibility in education is given back to individual schools, communities, teachers and parents. It begins a new paradigm of school management, teaching and learning that changes the way Indonesia approaches basic education and the rights of every child.
Teacher Training
KSF provides intensive training that empowers teachers to use more active, interactive and fun learning techniques in classes. Children are encouraged to learn independently, to ask questions and to draw from a wide range of learning tools and resources both in and out of school. School Principals and teachers are also trained on more effective school management and transparency to build parents' trust in the value of their child's education.
Mobilising parental and community support
KSF works with parents, grandparents, local governing committees and the community to ensure understanding, support and sustainability to KSF's education programmes. Teacher and community-member meetings are held to promote schools' transparency and accountability to students, parents and the wider community, and Parent Teacher Associations are empowered to make decisions for the best use of financial grants – provided by KSF – that meet their own local school needs.
Promoting sustainability and creating long-lasting change
To consolidate the achievements of KSF's work in schools, it is vital that we expose members of the Education Office, Local Parliament and Education Councils to the values of SBM, also providing facilitators that can support local government to adopt and replicate SBM across the district. By building the capacity of local government to expand KSF's education programme across their districts, we develop self-sufficient communities that can deliver quality education to benefit generations of children to come.
Looking forward
Having laid the foundations for quality primary education in five districts, KSF aims to expand its education programme to include junior secondary schools and scholarships across all of the districts we support and to new districts with great need.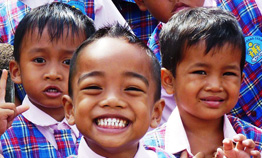 Despite significant progress in primary school enrolment rates, nearly a quarter of Indonesian children fail to move from primary into secondary education.
Almost half of children coming from poor families do not enrol in junior secondary schools.
Poor quality of education where learning is by rote and teaching methods are rigid can neglect the nurturing of children's individual capabilities.
In this environment, children may be discouraged to learn, with few opportunities for critical thinking, creativity, problem solving and the development of self-esteem.
Teachers often lack support, are paid low and irregular salaries and so are poorly motivated.
School governing committees may have a weak relationship with teaching staff and community support can be minimal.