Kartika Soekarno — daughter of former President Sukarno and his Japanese wife Naoko Nemoto, known as Ratna Sari Dewi—was once banned from entering Indonesia. His successor President Suharto also did not allow Sukarno's children to meet their late father. This political pressure apparently deeply impressed and made the young Kartika want to return to the country even more.
She is now living in Jakarta and actively supporting more than 200 posyandu — an abbreviation for pos pelayanan terpadu, a child and maternal clinic —in Java, Bali and Sumatra to help fight for malnutrition, one of the largest infant problems in Indonesia. According to the government, eight million babies and toddlers are malnourished. Through her Kartika Soekarno Foundation (KSF), she has channeled $117,000 of the Japan government's funds last year to improve the clinics' service and revitalize 49 posyandu.
"We have trained about 1,000 volunteers, and also provide basic healthcare such as immunization for expectant mothers, babies and toddlers. The ages zero to five is a crucial time for children to get good nutrition because of the impact on their health and brain development," says Kartika who founded KSF in New York 16 years ago.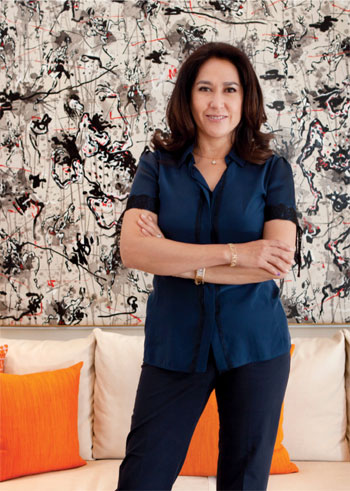 Kartika is a role model for independent women. She sometimes travels alone to the locations to visit her projects, from a small town of Solok in West Sumatra to Gianyar in Bali. She says the volunteers who work for the posyandu always impress her.

Her interest in posyandu started after she visited several clinics in Subang, West Java, in September 1999. Kartika, who at the time lived in New York, was a member of the U.S. National Committee for Unicef. Later she returned to observe clinics in a slum area of Jakarta for the same project. Together with a Dutch top model Annette Lauer, she raised hundred of thousands of dollars for this healthcare project.
As a prominent figure, Kartika can help raise money for charities. For example, she helped Unicef raise $180,000 through a charity event to fund the improvement of education for Indonesian children in remote areas. Currently, she is a member of the American Foundation of Venetian Heritage, which organizes the Venice Art Biennale, and collects funds for the architectural restoration of the city.
Last year, she brought English actor Jeremy Irons to Jakarta and Bali to visit the posyandu while also promoting Irons' environmental documentary film "Trashed" in 39 cities in Indonesia. The film talks about global waste, and features Jakarta's Ciliwung River and Bali's beaches as examples of global pollution. "It's an important message for Indonesia as there is a difficult situation with the trash here," she says.
During her childhood, Kartika grew up living in many countries. She was born in Tokyo 47 years ago. Although she is an Indonesian citizen, her mother lived in Paris and Switzerland because of the un- certain political conditions in Indonesia. She doesn't speak Indonesian fluently; instead she is able to speak English, French and Japanese well. Like her mother, she loves fashion: some of her favorites are Prada, Dries Van Noten and Gucci.
After the death of her father in 1970, she was able to visit Jakarta and sometimes stayed in her stepmother's house, Hartini Soekarno, or her half sister's, former President Megawati Soekarnoputri. Kartika has a very close relationship to Megawati, who witnessed her wedding to a Dutch banker Frits Frederik Seegers, now chief executive of Chairul Tanjung's CT Corp., in Amsterdam in 2005.
"Mbak Mega is a person that I admire. She can act either as a good mother, a politician or as a leader," says Kartika. Although most of Sukarno's children are involved in politics, Kartika feels more comfortable as a social activist. Her philanthropy roots go back to a U.S foundation she supported to help the homeless in New York. Before, she was a TV journalist in Tokyo. In 1998, when Indonesia was hit by the financial crisis, she established her own foundation, KSF, with support from Unicef and CARE.
"Jakarta has changed. There are many ultra rich families here, while the middle class is also growing. But, in the other places, there are still people who need help. That's why our efforts are with children from poor families, to help them have a good education and health," she says.
In education, KSF has prevented more than 1,900 students from dropping out. It also trained hundreds of teachers in 75 primary schools in Gianyar, Blitar, Kebumen, Trenggalek and Solok. Her foundation also provides scholarships for secondary students to continue their studies at vocational schools. "We also provided grants for schools because the teachers sometimes are not very well paid or not motivated, so we train them to improve the quality of education. When children enjoy going to school, more children can be saved from dropping out," she says.
Kartika funds her foundation with grants from the Japanese government and other international donors, as well as from private and corporate donations, such as from Freeport, Citibank and BCA.