Through our Posyandu Revitalisation programme, KSF has:
Created 200 'Taman Posyandus' that integrate posyandu's health and nutrition services with early learning activities in the districts of Gianyar, Solok, Gresik, Blitar and Kebumen.
Reported no malnourished infants in KSF supported Posyandus.
Retrained over 1,000 Posyandu volunteers to detect child health issues early, improve health & nutrition counselling and lead early learning activities.
Provided 8,000 infants and 687 pregnant women with essential health and nutrition interventions.
Educated thousands of parents to monitor their child's growth, complete immunisation and support their child's early psychosocial development.
Built local government capacity to invest own funds for the long term implementation of Posyandu Revitalisation in five districts of Indonesia.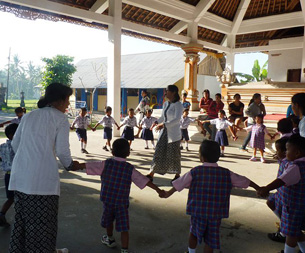 Posyandu volunteers play morning games with children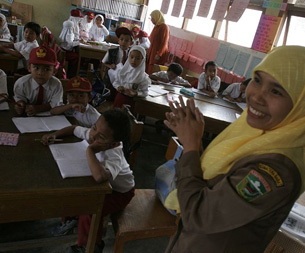 After training, teachers can deliver exciting, interactive classes to students
Through our School Based Management programme, KSF has:
Trained teachers in over 75 primary schools in the districts of Gianyar, Blitar, Kebumen, Trenggalek and Solok
Given more than 18,750 primary school children a safe, creative and fun learning environment
Achieved 0% drop-out rate in KSF-supported schools, saving 1,900 children from dropping out
Improved academic achievements with students' exam results being 27% higher than the national average
Provided scholarships amounting to over $3,400 for students to continue their education into secondary school at SMK Bina Harapan.