KSF UK blossomed this spring and new developments are thriving.

KSF is proud to share the news that KSF's Executive Director, Stephen Woodhouse, was invited to speak at the Annual Commonwealth Day Seminar at the House of Lords about the role of education in emerging economies.
Stephen chose to highlight KSF's success in local communities with their bi-focal approach of safeguarding early childhood health and optimising schools with KSF teacher training.
Although Indonesia is not part of the Common Wealth, the audience as well as the panel was eager to hear about the KSF approach and to discuss the possibilities of emanating this formula.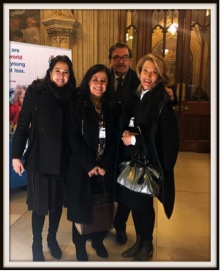 Congratulations KSF for making a mark in the space of global NGOs!

Celebrating KSF at Commonwealth Day at the House of Lords:
Founder Kartika Soekarno Seegers, Guest of Honour, Ms Hana Satriyo, who has recently arrived in London with her husband Ambassador Rizal Sukma, and Trustees Brian Sanderson and Joana Schliemann.